Sports activities
Healthy society is an asset of the nation, games and sports play vital role rather it has been an integral part of life. S.P.M. an eminent N.G.O. in the field of sports, aimed to strengthen, develop and empower sports from grassroot level to international level from the past 3 decades, it has become synonym for sports.
Many children and youth from marginalized sector have enormous talent are remaining unexplored in the field of sports as unavailability of resources and equal opportunities. Trust focused on cherishing and popularizing various sports activities in different centers, there were many challenges posed in getting many talented on board and overcoming all odds from the society, it had started nurturing the talent form 1980's.With initiation of trust in Yavatmal district, District Association of 15 games are formed to nurture the young talent under the leadership of Trust secretary Dr. Prakash Nandurkar. His vision and foresight had opened the doors to young talent of various games through establishment of Sports clubs to provide state of art infrastructure, sports equipment, and offer advance coaching. This revolutionary initiation created a healthy and enthusiastic environment for sports, which resulted in grooming up the talent from grassroot level to International level.
Trust initiation and efforts inculcated sports culture in the society and many youths are inspired to make sports as their passion and their career for life. The enormous efforts of the players and continuous support of trust ripened fruitful results and added many jewels to the crown. More than 2400 players have participated in state level championships and 280 players participated in National level tournaments in various games and sports. Many of our players, lead the team as state team captain and it is matter of pride that they became National champions many times.
Trust organizes various sports activities for different age groups in massive scale to bring them into sports stream, to inculcate right to play, to explore the talent, Trust is always in a witch hunt for young sports talent, it is always successful in identifying potential young talent. Trust works round the clock for grooming up the young talent and to shape out them as blooming buds of Indian sports. and also, for sportspersons to educate, enhance their skills as per national & international standards
Play to Play aims to unearth hidden talents, polish and provide a platform to exhibit their skills. Our flagship programme will provide free access to sports equipment, infrastructure, coaching and space especially to the underprivileged and economically disadvantaged youth. The programme envisages setting up clubs in areas where the youth are denied access to sports in the absence of a support system. Existing clubs struggling due to lack of funds or domain expertise can also be adopted.
STAIRS plans to rope in the corporate sector for funding this initiative. The donors will benefit from CSR tax deductions, increase in brand visibility at the youth clubs as well as sports events and higher consumer loyalty.
One of our trust sports club player Mr. Akash Chikate present player of Indian hockey team was financially supported by trust to reach greater heights in his career. He was named as Asian Best Goal Keeper and Player of Tournament.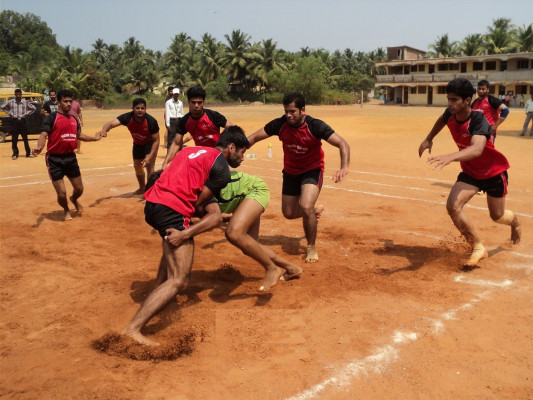 Trust through its sports establishments, it is working continuously for upliftment of sports and empower children, young talent living in poverty & in rural India.
It has produced sportsman from national to international level. With its vast experience and its indubitable commitment, it lead all-round sports development. Under visionary leadership of Secretary of trust Dr. Prakash B. Nandurkar, 15 various sport bodies were formed for various indigenous and other sports in Yavatmal. It was his great foresight and visionary thoughts kept Yavatmal district high in the field of sports although it is far behind in many of the sectors. He is president of 10 sports bodies of Yavatmal district, worked as chairman for 15 sport bodies of Yavatmal district, international selection committee chairman for tenniquoit, observer of Indian team in Seoul Olympics, worked as Indian team manager and coach. trust identified and equipped those children, young people with skills and knowledge, which enabled them to grow up, to move out of poverty and to contribute to the sports. Trust had utilized every opportunity and made impossible as possible. Trust had provided sports facilities in various games to 15 Yavatmal district sports associations. All these associations used to train the students through our trust infrastructure and support. It had mainly
It was a time, where there were no proper sports facilities in any part of the district, it was trust that come forward to create state of art infrastructure, provided coaching and required kits/equipment for all potential players.
Trust created golden era in the field of sports by organizing International Tennikoit championship in which players of south Africa, Pakistan, Bangladesh, India and Brazil had participated. Trust initiations are encouraging many women from rural areas which lead to build strongest hockey team in Maharashtra. The said women hockey team is remaining unchallenged for many years since its inception under the eminent leadership of secretary of our trust, in 2019 also Yavatmal district stood first in state level hockey championship.
Trust has also organized 10 national tournaments in various games, National coaching camps were organized, coaching camp for Indian Tenniquoit team for Germany and South Africa tour was also organized. Trust also conducted 9 national seminars and conferences regarding sports through trusts educational establishment. It is a matter of pride that, Government of Maharashtra state had conferred 12 players of our club with highest sports award of Maharashtra state "Shiv Chatrapathi Sports award".
| SL.NO | Name Of The Awardee | Year |
| --- | --- | --- |
| 1 | Dr. Ulhas Nandurkar | 1998-99 |
| 2 | Dr. Ram Nandurkar | 2000-01 |
| 3 | Shri Shankar Kale | 2000-01 |
| 4 | Ku. Radhika Somavamsi | 2000-01 |
| 5 | Shri. Sudhir Kantode | 2002-03 |
| 6 | Shri. Jaya Maitreya | 2003-04 |
| 7 | Shri. Suresh Deshbratare | 2004-05 |
| 8 | Dr. Prakash Nandurkar | 2004-05 |
| 9 | Ku. Sujata Ladhole | 2005-06 |
| 10 | Shri. Suresh Warathi | 2006-07 |
| 11 | Shri. Pritish Nandurkar | 2007-08 |
| 12 | Shri. Akash Nandurkar | 2013-14 |
Dr. Ulhas Nandurkar, vice-president of trust was Conferred with 'Dadojee kondev best coach award' in the year 2005-06. Government of Maharashtra had conferred him with highest sports award of Maharashtra state i.e., "Shiv Chatrapathi Sports award" as "Best organizer of sports" to secretary of trust Dr. Prakash Nandurkar.
One of the members of trust sports club Mr. Akash Chikate present player of Indian hockey team was financially supported by trust to reach greater heights in his career. He was named as Asian Best Goal Keeper and Player of Tournament.
Slum talent to Nation Talent
Trust had provided sports facilities to youth residing in slum areas and had organized Zopadpatti football tournaments. It had benefitted the youth in slum areas in getting rid of their bad habits. Also, they have started moving towards healthy practices who were addicted to bad habits. This program acted as good deaddiction for those youth. Out of these youth two of them represented Indian team for street football tournaments held at Germany and Australia.
Trust had organized self defence camps for school and college girls. More 10000 students were trained in this camp and they were empowered with self defence tactics.